DESCRIPTION:
AT-PLAST 401(HP) is a high range water-reducing admixture. It is recommended for concrete at the job site or at the ready mix concrete plant. No Chlorides are used in its formulation hence, it is recommended for pre-stressed concrete. It is also compatible with air entraining agents, water-proofing agents, calcium chloride and many other admixtures; however, each material should be added to the concrete separately.
STANDARDS:
It complies with IS : 9103 and ASTM C 494/C 494M -99a Type E
USES:
AT-PLAST 401 (HP) is useful where excellent high early strength without stiffening and high water reduction is required.
AT-PLAST 401 (HP) is used for the following types of concrete:

High performance concrete
General ready mix concrete
Heavily reinforced concrete
Flatwork and mass concrete
Minimum water content concrete
Low water/cement ratio concrete
High slump flow-able concrete
ADVANTAGES:
Combination of hardening accelerator and high range water reducer
Excellent high early strength
Good workability and slump life
Compatible with air entraining agents
Non-toxic, does not promote corrosion
Ultimate strength is not affected
Also suitable at very low atmospheric temperature
PHYSICAL PROPERTIES:
CONSISTENCY:
AT-PLAST 401 (HP) is formulated from carefully selected raw materials and is manufactured under control conditions produce a consistent product.
HANDLING:
AT-PLAST 401 (HP) is formulated from chemicals, which present no fire or health hazards.
RATE OF ADDITION:
With small dosage the increment of slump is more. The dosage depends on the cement content and the W/C ratio.
DOSAGE:
For soft plastic concrete 0.6 – 0.85 by weight of cement
For flowing self-compacting concrete (S.C.C) 0.8 – 1.2% by weight of cement the concrete
ADDITION : AT-PLAST 401 (HP) is added to the gauging water or simultaneously with it poured into mixer. For optimum utilization of the high water reduction we recommend thorough mixing at a minimal wet mixing time of 60 seconds. The addition of the remaining gauging water to fine-tune the concrete consistency – may only be started after 2/3 minutes of the wet mixing time to, to avoid surplus water in the concrete.
PACKAGING & STORAGE:
AT-PALST 401 (HP) is available in 250 kg barrel
Shelf life is 12 months in original & sealed packing
Keep packing in cool, dry place away from heat, cold and moisture
Stir material well before use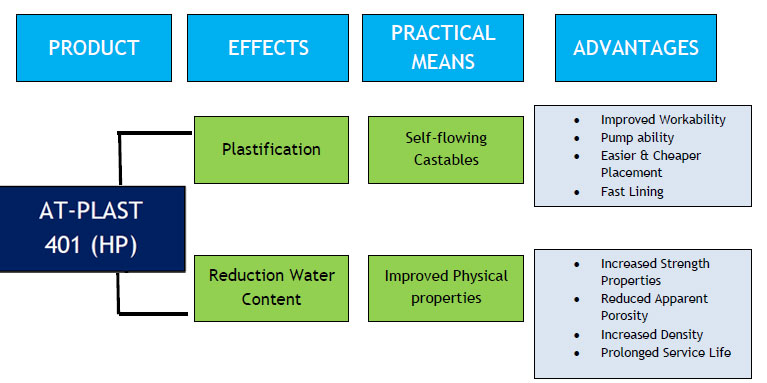 HEALTH & SAFETY:
Protect hands with rubber gloves and eyes with goggles.
Accidental splashes to the skin or eyes must be rinsed immediately with clean water.
Store in well-labeled containers.
If required get medical attention.